Ok, so you've found your dream clock!? …but where to put it? Here are some examples for decorating your home interior with a clock.
Ok, so you've decided to add a clock to the house… but where to put it?
Before deciding where to put the clock you should evaluate the function and style of your clock - is it modern, classic, retro, classic? Does it have a full body or is it only hands? Is it large and round, or slender and a bit irregular? Does it fit in with the décor and does it reflect your personality? Have you found your dream clock!?
Now that you've established your clock style, here's where you determine what space you have for it -Kitchen, Living room or Bedroom? Do you have empty wall space that's missing a little eye-catching ornamentation? Or do you plan to mix it in with the wall gallery?
Technically, all of these options are possible! Here are some examples for decorating with a clock.


In the Kitchen 

The most classic location for the clock is in the Kitchen. The kitchen is always a great place for the family clock – we tend to spend the most time there – getting ready for work, getting the kids ready, making breakfast, lunch or dinner, and it's the most convenient place to keep you on track. Need to be in by 10am? Then there is still time for pancakes…

Small space 
To keep it interesting and avoid the boring, expected clock try something a little different, fun and unexpected. A cuckoo clock, for example, is a great way to add charm to any home. It's an especially easy design for a small, narrow space – like the wall between the windows in this modern, industrial kitchen space by Jackie @ designsmitten.blogspot.nl. 


In the photo: Cuckoo Clock: Ingolf Haas modern cuckoo from DWR
Similar: Cucu Clock by Lemnos at Wilhelmina Designs: 

Modern meets color
Clocks can also be the unexpected pop of color/character in the room, or the key piece that brings a color theme together.  In this case, the classic, but bright yellow kitchen clock in designer Sally Saub's home is the focal point for the kitchen, and it's bright color matches perfectly with her wallpaper and turquoise theme. 


Similar modern clock by Lemnos
Contemporary 
The Classic kitchen clock, round and subtle, is always a timeless and welcome-home feeling piece. Sometimes classic is just the best when going for a minimalistic, tranquil space.
Similar contemporary wall clock by Lemnos
In the Living Room
The living room is the second most conventional, and convenient place to display the clock. When not in the kitchen, the family spends most – if not all – of their day in the living room. For this reason it's also one of the best locations for keeping the clock – it will keep the whole family on time. Beside, the livingroom often has the most space, biggest walls and highest ceilings in a house, making it the ideal place to display a truly artistic, large statement clock.
Statement clock
Big is better when it comes to the living room clock – more wall space and higher ceilings means you have more space for a bigger, interesting clock. For example, the stunning roman numeral statement clock in the photo from rigbyandmac.com. It makes a big statement in this cozy contemporary living room, but doesn't look out of place at all. It fits in perfectly to the space and the style. 
Similar: huge wall clock by Nomon
Minimalistic
While big makes a big statement, sometimes minimalistic is the better approach. A modern take on the clock, this enchanting time-piece, reminiscent of a sun burst, with no frame (and no fuss) makes a tasteful, artistic display on quite literally any wall.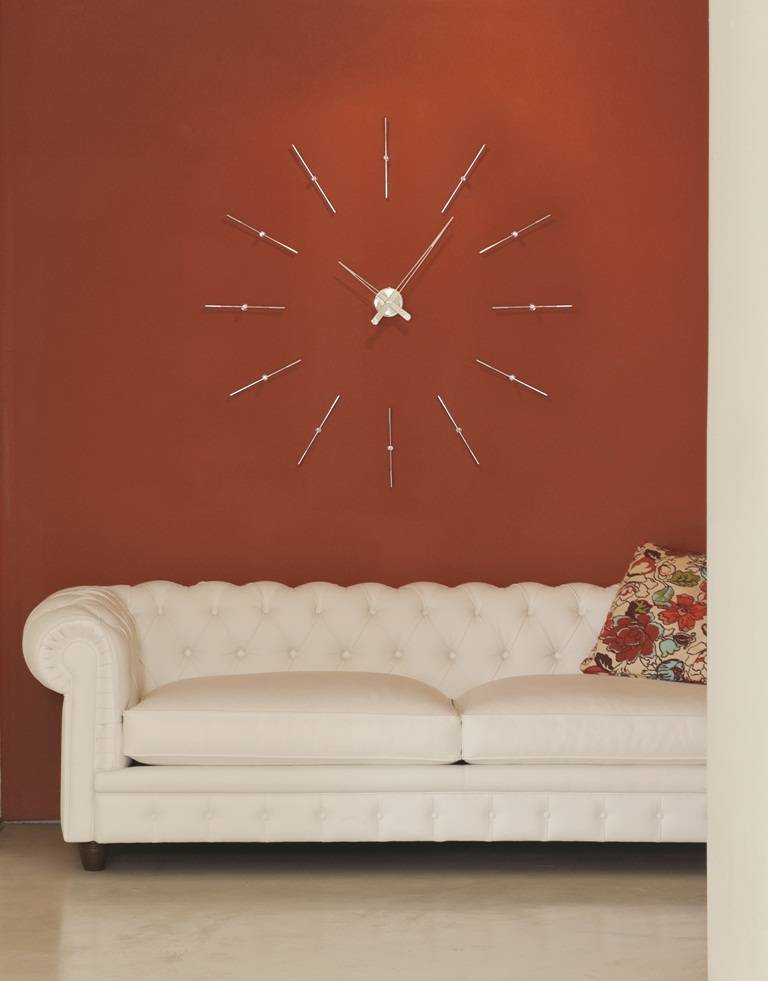 This enchanting minimalistic large wall clock by Nomon is available at Wilhelmina Designs:  
Simplistic
Though similar to minimalistic styles, simplistic clocks are as simple as they come, with undeniable elegance.  This room, for example, from styleathome.com features a simplistic, calming Scandinavian styled home, with a simple, round, dreamy and calm clock. Simplistic designs like this work - without a doubt - in any space.


Similar: Kifuku, coming soon to wilhelminadesigns.com/nl 
Vintage Classic
And we're back to a classic clock design again. Classic is classic for a reason, it quite literally goes well in any room. So in small spaces a solid classic clock with vintage design is often the paramount choice. In this lovely living room, by Kristin Fägerskjöld @ imittparadis.blogspot.se, this lovely vintage-esque classic clock makes this room very chic - and pairs perfectly with her understated decor. 
 
 
Modern meets chic
For a lovely, bright and airy room, modern is not always the first clock choice that comes to mind, but if the style is simplistic and grand, a modern, no-frame clock can be the perfect eye-catcher in a room.  Take for example, this shabby chic bright mantel display by Maria Carr @ dreamywhites.blogspot.nl. The clock is modern and fun, and yet it pairs perfectly with the soft, creamy color theme of the room and the collectibles on the mantel. So lovely. 
Similar:  http://www.wilhelminadesigns.com/nl/nomon-moderne-klok.html
In the Bedroom
Despite the occasional irritating 'tick' some clocks make, (some clocks have 'sweep movement' technology – so no 'tick') a clock is still a wonderful design aesthetic for any bedroom. Because the bedroom is the comfy place where we wake up, get ready for the day, and curl up again at night, it's a nice place to have a clock handy. In the bedroom, clocks are mostly hung above (or across from) the bed, and as bed-side alarm clocks.  

Over the bed
Sometimes the most obvious place is the best place for a clock, like over the bed.

Modern
Taking a more modern approach is always a good idea. Display a matching set of square-faced design clocks above the bed for a unique touch, like in this modern, masculine, yet utterly chic bedroom from whitewebb.com. For a more interesting collection, set the times to different cities that have sentimental value to you. 


Similar: modern clock by Nomon

Classic
Prefer a more classic clock? The best spot is still above the bed, especially in a high-ceiling bedroom. Classic clock designs mix well with nearly all room styles – contemporary, modern, country, or retro – whatever your style a classic clock will fit right in and feel at home.
Similar:  http://www.wilhelminadesigns.com/nl/lemnos-wandklok.html 
Bed-side / Classic Alarm
Like little works of art, the right alarm clock is an additional bit of décor for a lovely, well-rounded bedroom. Alarms are the most common bed-side clock, since they literally get you out of bed in the morning!
Table Clocks
Vintage, modern, artistic, whatever the nature of your table-top clock, they are also are also a great asset to any room, but where to put those? Display them on the bed-side table, the dresser, or on your bookshelf with your other knick-knacks and décor.
Shelf
Small, standing clocks make a great visual on a shelf. Use them as book ends to keep your books tidy and add character to any shelf display in your home. They're a great quick fix for an empty shelf space. 


A design table clock that is sure to look stunning on any shelf in your home: http://www.wilhelminadesigns.com/nl/lemnos-design-tafelklok.html
Table-top
Charming and full of individual character, table-top clocks are the perfect finishing touch to a room. Place them with other collectibles, or perched on a pile of books, and they accentuate any space. 
Or display an entire collection of table-top clocks together! Photo from photographer and designer Trent and Dara's home. 
As you can see, a clock is great way to add timely character to any room and they come in a huge variety of shapes, sizes, and styles. There is a clock for everyone and every space. And if you can't decide what clock is your favorite – you can always display multiple ones in the same space for a totally unique room design: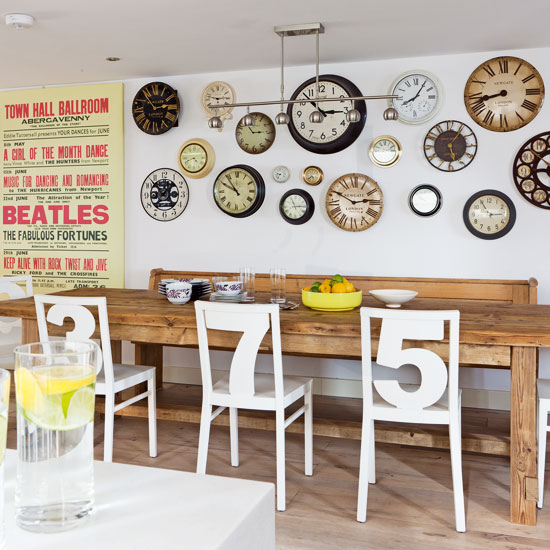 So, where should you put the clock in your home? The answer is Anywhere! 
 
Sometimes a clock is the perfect finishing piece for a perfect interior design.
Sadly, clocks are often over-looked these days; in general, clocks seem to old-fashioned - even for contemporary living space! While the concept of having a big, heavy clock in your living room could appear vaguely outdated, the fact is that a well-made, unique clock is a timeless piece of art. Picking the right type of clock design can really make an impact, pick up a theme, or finish a room. Yes, clocks can add that perfect 'je ne sais quoi' to a room that makes it look finished! In addition, you'll never lose track of time again.
For example let's take a look at these four photos of lovely, modern designed living rooms. All of them are lovely, calm, neutral and chic – but there's just something missing… We would add one more thing to complete their over-all design... 



Contemporary Interior Design Living Room from ileanm.org 

Interior Design Modern Living Room from ileanm.org 
  
Interior Design for Modern Living Room from crafts.homexgarden.com 



Swedish Design Modern Living Room from freshhome.com 

Add a clock! 
Like we said, these rooms are beautifully designed, but there are some glaring white spaces where just a little something extra would be perfect. A painting or picture would do well, too, but we're going to try to fill that empty space up with a unique, eye-catching, space-filling clock!

1 


2 


3 


4 



We added the following clocks to the rooms (in order): 
Aggressive by Lemnos
Sunset by Nomon
Punto by Nomon 
Cucu by Lemnos  
A sculptural clock is best displayed in a quirky home setting, where it appeals to the eye and becomes another element of décor in the room.  A classic clock design with a charming twist is the ideal clock for a bright, warm, homey room. It keeps the photos balanced and mixes perfectly with the hard wood flooring and modern coffee table, without losing any of the home's charm. In fact, it only adds to the cheer up the space! You see how a large modern clock is the perfect way to fill up that once bland space without losing the original modern chic room design.
Clocks are a great example of how just a small change can have a huge impact on the overall impact of a room. As a fore-front piece in your room, a well-made, characteristic statement clock is the way to go. It's a conversational piece, and having an interesting, exotic or even a classic clock design will add interest to the room. It's not just a clock, after all; it's an art-form.
Sometimes the great transformations take the longest amount of time and energy to achieve, but sometimes a room just needs a clock.