26 / May / 2023
The perfect parasol to suit your garden
With summer approaching, it's time to summerproof your garden. But how do you put together the perfect parasol to suit your garden? We'll help you with this through four steps.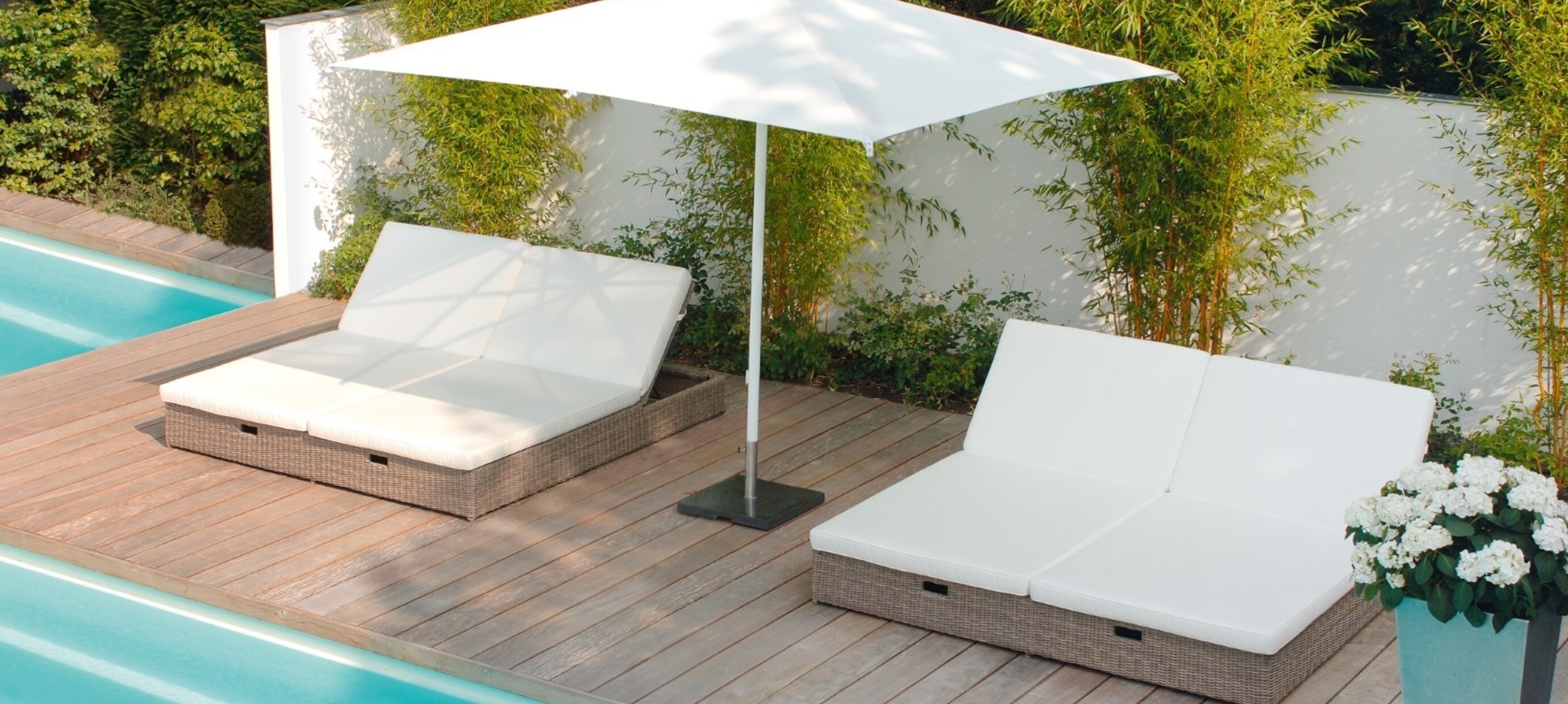 With summer approaching, it is time to make your garden/terrace summerproof. A parasol can't be missing. But how do you put together the perfect parasol that fits your garden or terrace? We will help you in four steps.
Step 1 | Choose the size
Parasols come in many different shapes and sizes. Will you go for a round, square or free-hanging parasol? Here, it is important to consider the outdoor space in which you want to place the parasol. For example, a square parasol can fit well with a wall or another parasol. Of course, the shape of a parasol is a matter of taste, but you can also look at which shapes are already present in the garden and match the parasol with them.
Please note that the shade area of a round parasol with a diameter of 200cm, for example, is not equal to the shade area of a square parasol of 200x200cm. This is because the corners of the round parasol fall away.

Step 2 | Choose a parasol fabric colour
Now it's time to choose a parasol canvas colour. Which colour do you prefer? Black, white, grey or ecru? BOREK's parasol cloths are made of Batyline or Spuncrylic. These materials are resistant to UV rays and bad weather conditions.
The natural colours of the available parasol cloths blend in with your garden and/or terrace. This way, the parasol is one with the rest of the garden and garden furniture. A natural or light-coloured parasol gives a feeling of space, whereas a black or dark-coloured parasol creates coziness.
Step 3 | Select a fitting parasol base
When installing a parasol in your garden, a parasol base is a must. Of course, you don't want the parasol to fall over and/or be blown away. The choice for a parasol base is influenced by many aspects. For instance, how heavy the frame of the parasol is, but also whether the parasol is placed in a private garden or in an open garden with a lot of wind. In general, you can apply the following rules for parasols with a base in the middle;

Please note: a special parasol base is available for some free-hanging parasols. If you have any questions when selecting the right parasol base, we will be happy to advise you. Please contact our customer service team.
Step 4 | Select a protective parasol cover
A protective cover is an essential part of a parasol. This way, you can enjoy the high quality of the parasol for an extra long time. BOREK's protective covers are UV-resistant and mould-resistant. Using the covers to protect the parasol is possible all year round. We do recommend storing the parasol in a covered and dry place in autumn and winter.