Robin Dullaart - 22 / Feb / 2019
Nomon Clocks
Nomon clocks has a beautiful range of modern clocks. The clocks are made in Spain and are characterised by their minimalistic design.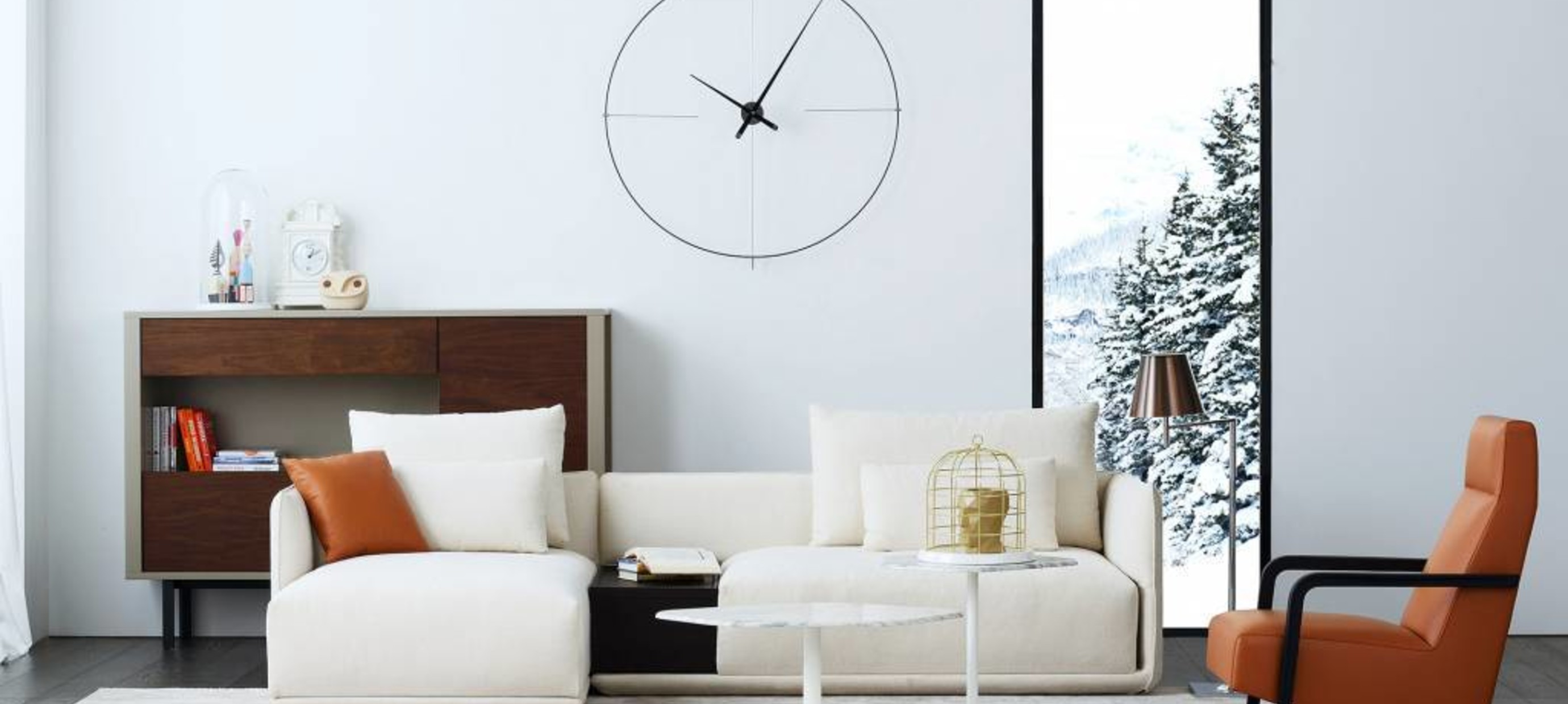 Nomon clocks are hand-crafted in a private workshop in the heart of Barcelona. In this article, you will find all the information about the history , the design , the materials and the product range . Would you like to know more about this special design label? Then read on!
Contents
A short introduction to Nomon clocks
Nomon's contemporary design
Nomon's synergy of materials
A Nomon clock for every space
The model range of Nomon clocks
Technique and Packaging
Purchase and aftercare of a Nomon clock
1. A short introduction to Nomon clocks
Nomon clocks has for many years been a leader in the world of luxury design clocks. The company can already be found in over 80 countries. The modern and avant-garde designs grace the walls of thousands of homes, offices and public buildings. In 2013, at the international furniture exhibition 'Salon del Mobile', the purchasing team of Wilhelmina Designs was introduced to the dedication and perfect quality of the craftsmen at this Spanish company. In the last five year, a close cooperation has ensued, and in that time hundreds of clocks have made their way to customers in the Benelux, Germany and further afield.
Nomon was created as a clock manufacturer for several large furniture labels such as Poliform , Varenna, Ligne Roset , Roche Bobois and Giorgetti. After the products were exhibited on the international furniture fairs, Nomon continued as an independent label, even though the collaboration with the above-mentioned brands still remains.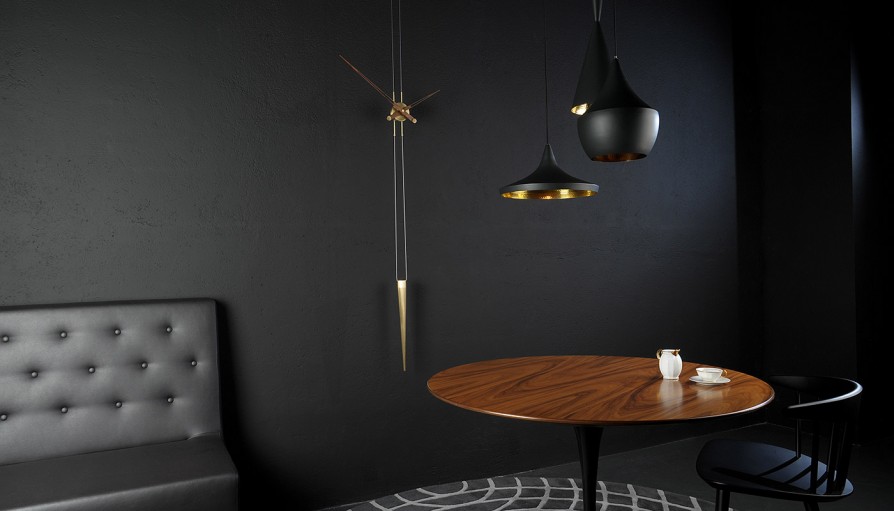 2. The contemporary design of Nomon clocks
By means of a careful design process, Nomon clocks aims to produce visually eye-catching models that are at the same time functional and durable . All the clocks are produced in their own workshop where innovative techniques are combined with artisanal craftmanship to achieve a durable result.
Designer José María Reina (Utrera, Sevilla 1951) was the founder of the NOMON label. He belonged to the generation that put the city of Barcelona on the map as an industrial design city. His multi-disciplinary work in both furniture as well as jewellery design eventually led him to the basic design of the 'Axioma' clock. In this way, the clock as a functional object was in fact reborn as wall decoration . Both the form and the use of materials differ completely from those of conventional clocks. Thanks to José Maria Reina, the clock has regained its renewed status as a full-blown decorative and prestigious element for home and office!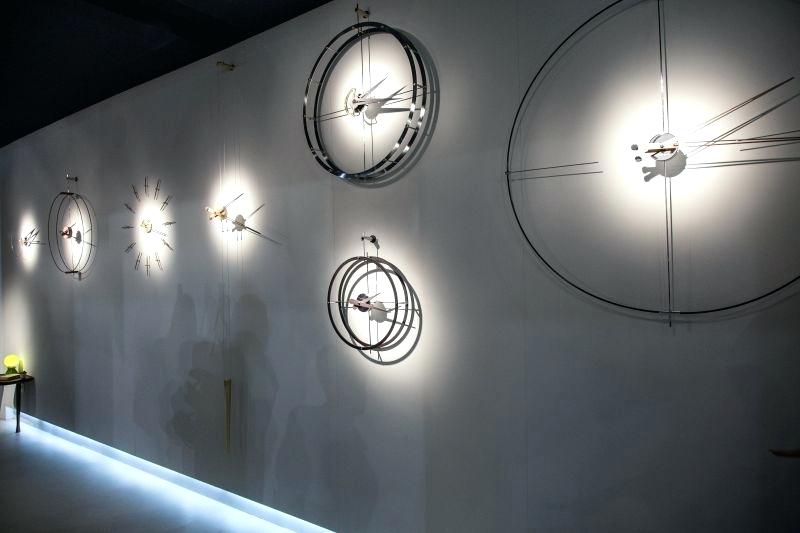 3. Nomon's synergy of materials
All clocks are unique and hand-crafted . Small discrepancies in every individual piece are possible, exactly because every clock is made by hand from natural materials. The strength of the product lies in the exclusive character , the careful process and the attention to detail . The clocks are fully manufactured in Spain and are fitted with a German-made movement .
Nomon is unique because of its 'hands-only' design . That means that in principle the clock consists only of the hour and minute hands and a minimalist round casing. The hands are manufactured from steel or natural wood. The steel version consists of high-quality thin stainless steel finished in high gloss bright steel, or with a coloured lacquer (red, white or black). Embracing the 'gold trend' , the hands can also be executed with a brass (gold look) finish. Thanks to the use of high-quality steel , the hands are much 'stiffer' and therefore more durable than the aluminium or plastic materials that are often used in cheaper alternatives.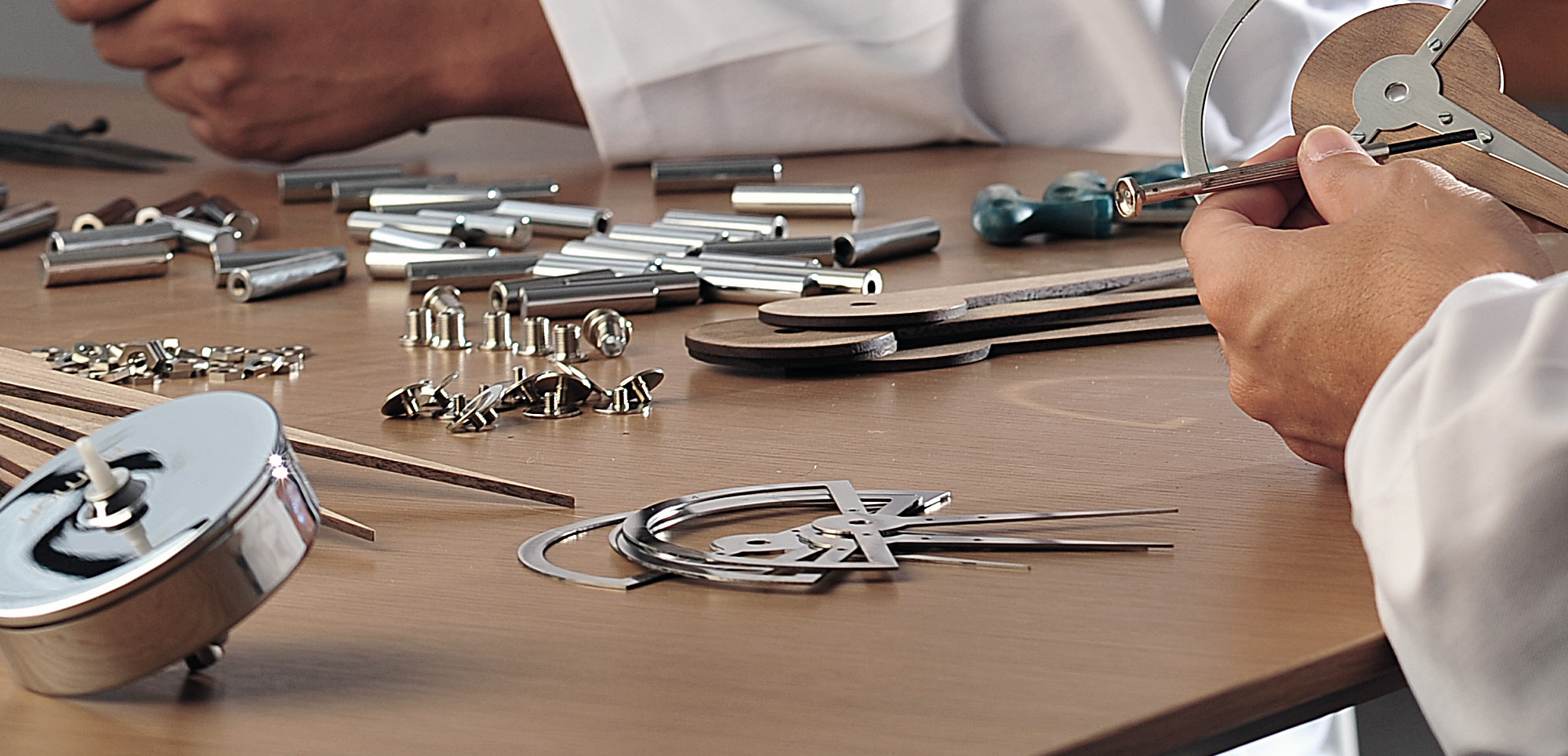 The wooden hands are made from Walnut wood (mid-brown) or Wengé (dark brown) and are provided with a matt, transparent protective lacquer. All the wood used is FSC-certified and obtained through managed logging . And finally, there is also the 'graphite' finish. A finish in a strong, dark grey graphite colour.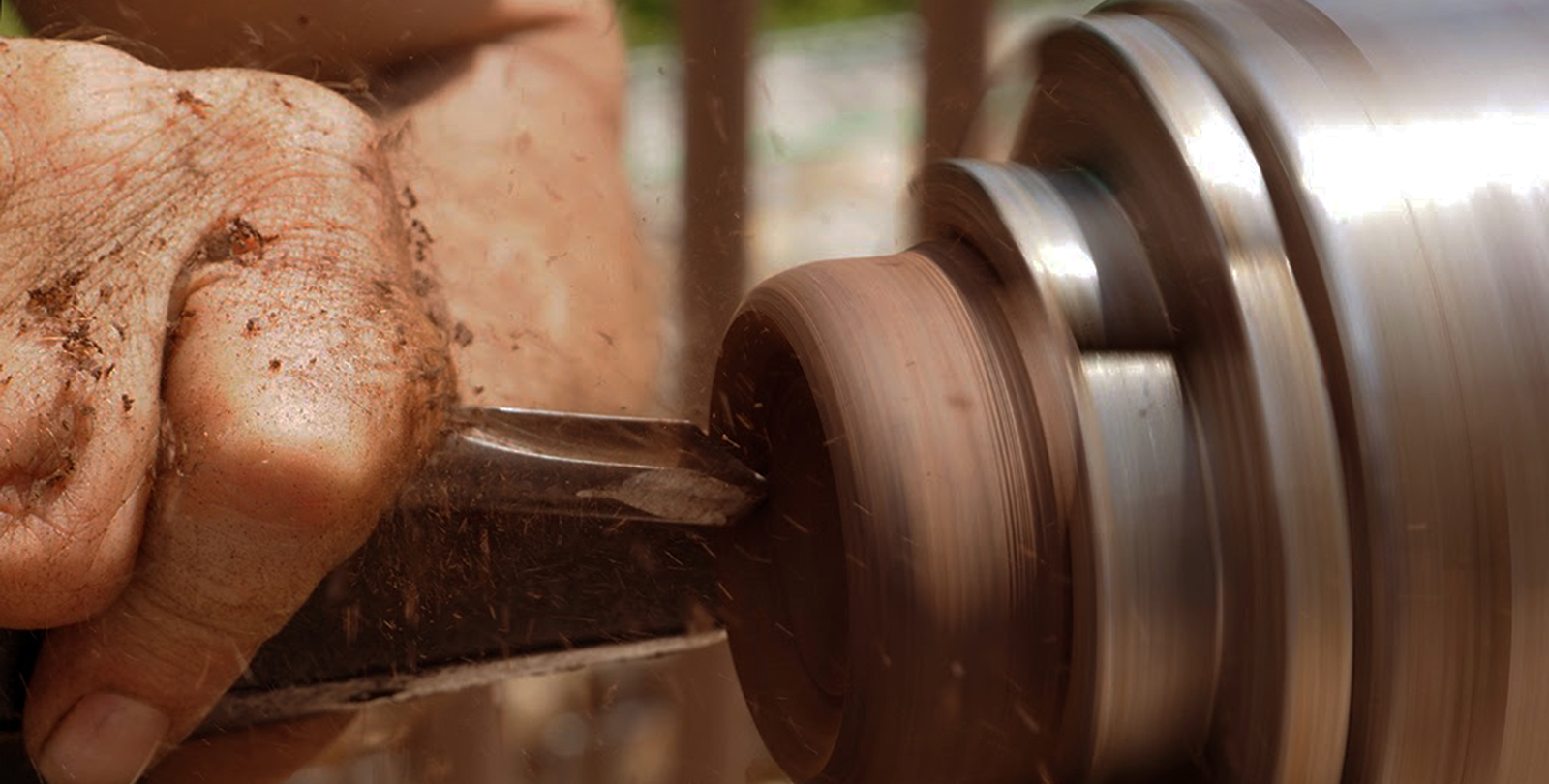 The time indications are made from solid stainless steel and are supplied as complete sets including screws and plugs, handy for installation. Depending on the model of the clock, the time indications come in a rectangular shape (Tacón), a round shape (Rodón) or as a small oblong rod (Merlín). The time indications can be supplied in high gloss bright steel or a gold finish . Several of the models feature either a single or double fibreglass circle that is, as it were, stretched around the central body of the clock.
In conclusion:
Hands
High gloss bright steel
Lacquered steel (red, black or white)
Gold-finish steel
Walnut or Wengé wood
Lacquered wood (red, black or white)
Graphite dark grey
Time indications
High gloss bright steel
Gold-finish steel
Graphite dark grey
4. A Nomon clock for every space
With its newly discovered clock design by Nomon, the clock has regained its place on the wall. As well as being functional, it now also is a jewel on the wall , and thanks to the minimalist design it is never overbearing in the space.
Living room
In the living room, a Nomon clock is the perfect way to fill up an empty wall, every Nomon clock is an eye catcher in the home.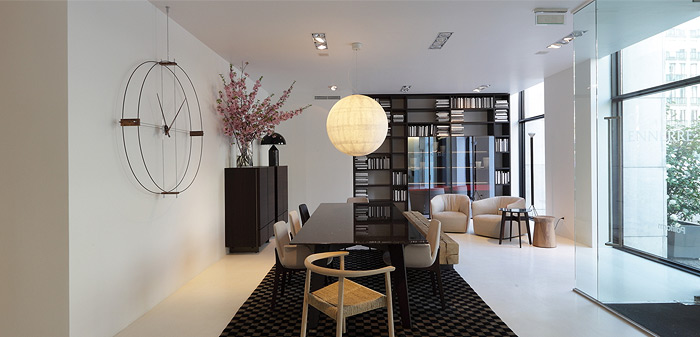 Kitchen
A large proportion of our busy daily lives is spent in the kitchen, the centre of the home. A clock is of course indispensable for ensuring that all members of the family leave on time, for instance when going to school or work.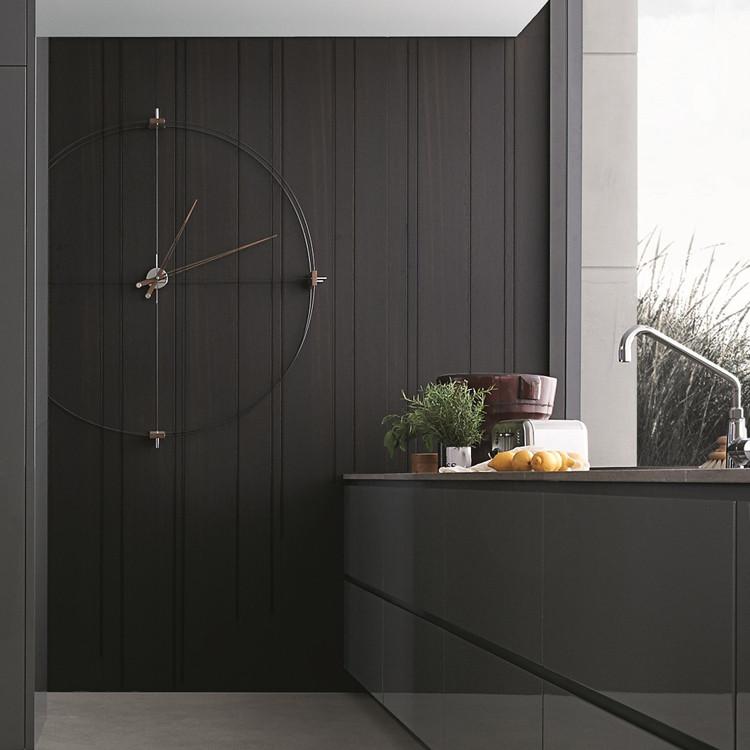 Office
Of course clocks are essential in the office, after all we always work 'to time'. Many companies hang a clock behind the front desk in the Reception area, and sometimes even more than one to display the different time zones.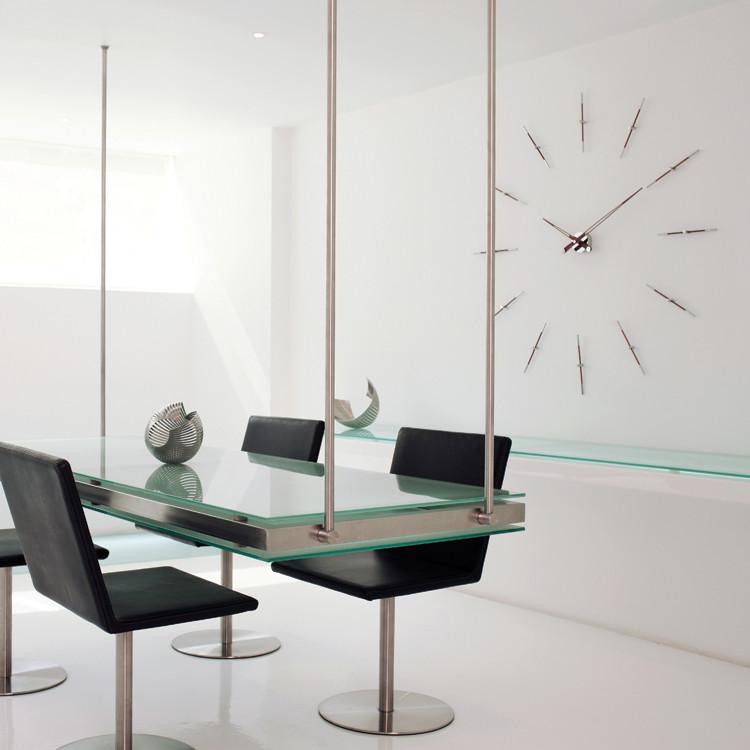 5. The model range of Nomon clocks
The extensive range of Nomon clocks consists of the following product families:
Senales Horarias
Aros
Péndulos
Sobremesa
Atomo
Marble
OJ
Senales Horarias
Senales Horarias
The 'Senales Horarias' collection consists of clocks made up of just hands and optional time indications.
The basic Nomon model is the 'Axioma' which consist of a small round casing, an hour hand and a minute hand. This model is available in diameters measuring 60 cm, 74 cm or 100 cm. The hands of the 60cm model are always made from tempered steel , and those of the larger sizes from natural wood , with or without a coloured lacquer.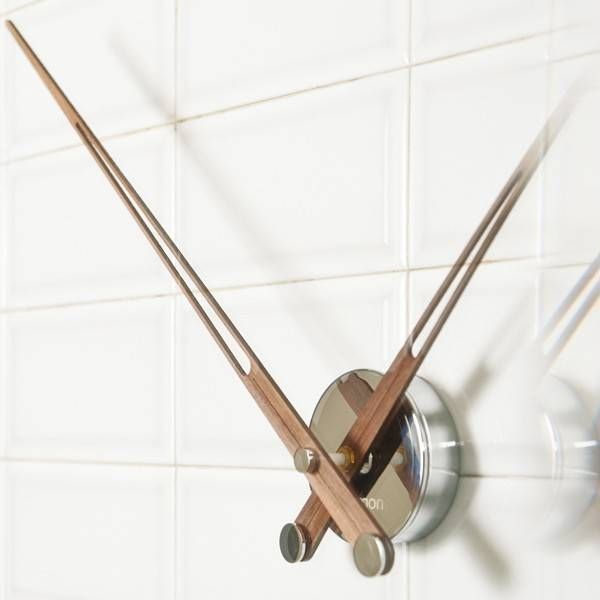 As well as the basic model with just hands, there are a number of models which have added time indications, which gives the clock a completely different look. Take, for instance the Merlín , which features rods measuring 25 cm in length, finished in the same material as the hands. Just like the 'Rodón' model, where small round discs function as the time indications, the clock has a typical retro look . With both models, you can vary the size, to ensure that the clock fits on your wall.
In the event that Merlín and Rodón prove a little too large, there is a perfect alternative. This is because both models are also available in a smaller variant . Made of the same beautiful materials, but in a smaller size (50 and 70 cm resp.) The Mini-Merlín has beautifully crafted hands that evoke a tuning fork . The min version is also available in the same options.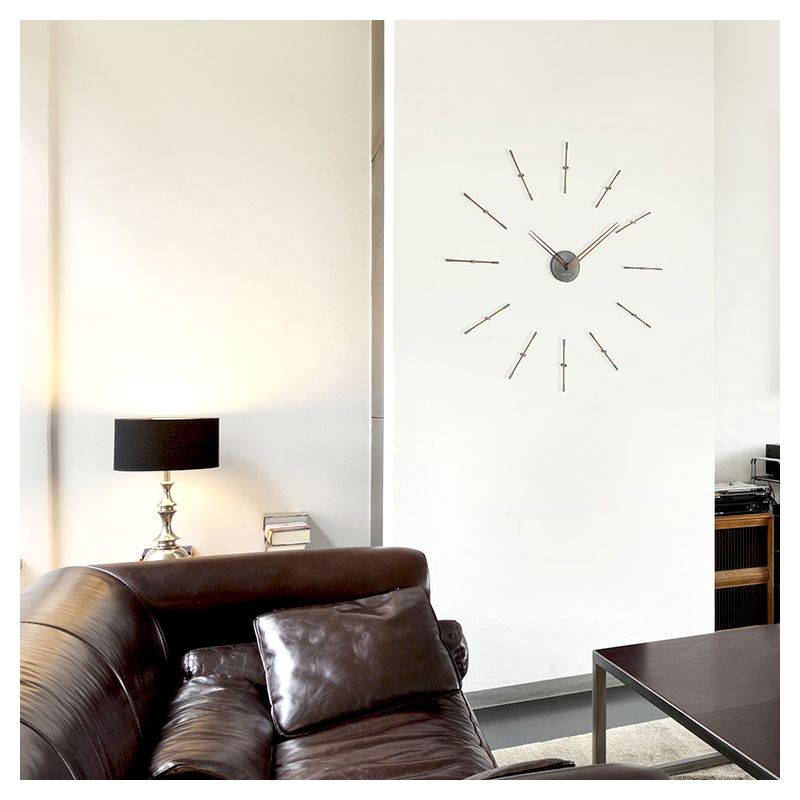 Unable to make a choice between the Merlín and the Rodón? In that case the 'Mixto' model may be the right choice, this model makes use of both types of time indications. This model series 'XL clocks' has sizes ranging from 110cm to 155cm in diameter. Assembly is simple; using the template supplied , you space the drill holes out on the wall in order to fix the time indications in the correct places.
Would you prefer a somewhat smaller clock? Then the 'Puntos Suspensivos' may be a good alternative. This retro clock has a diameter of 50 cm, and the time indications can be positioned by means of self-adhesive tape, so you don't have to drill any holes . The Puntos can be supplied in gloss chrome plate or with a red, white or black lacquer finish.
The popular 'Sunset' model also measures 50 cm and is crafted completely from wood. You can choose from beautiful walnut wood (mid brown) or dark brown wengé wood. You can even have the round casing finished in the same type of wood.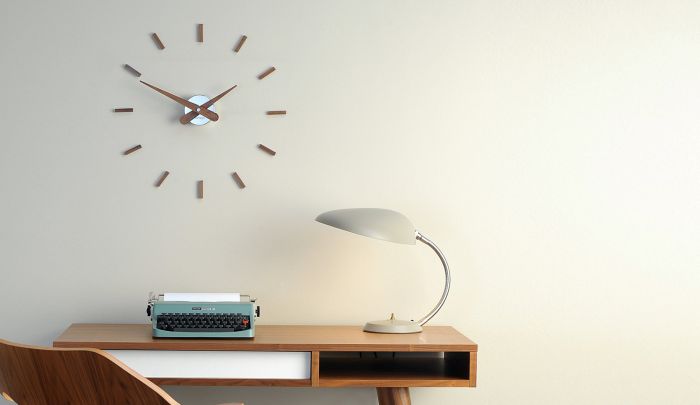 Aros
The 'Aros' collection consists of clocks that feature one or two rings of fibreglass that stretch around the centre of the clock. The heart of the clock is a casing on which the hands have been mounted. By means of an arrangement of very slim rods, the clock is connected to the ring and then mounted on the wall.
Clock 'Bilbao @ has been constructed in this way and is available with walnut or wengé hands and a white or black ring . Bilbao measures 105 cm in diameter. The Mini-Bilbao is Bilbao's smaller brother and has a diameter of 77 cm. The hands are made from black lacquered wood, and this model stands out thanks to its walnut wood casing.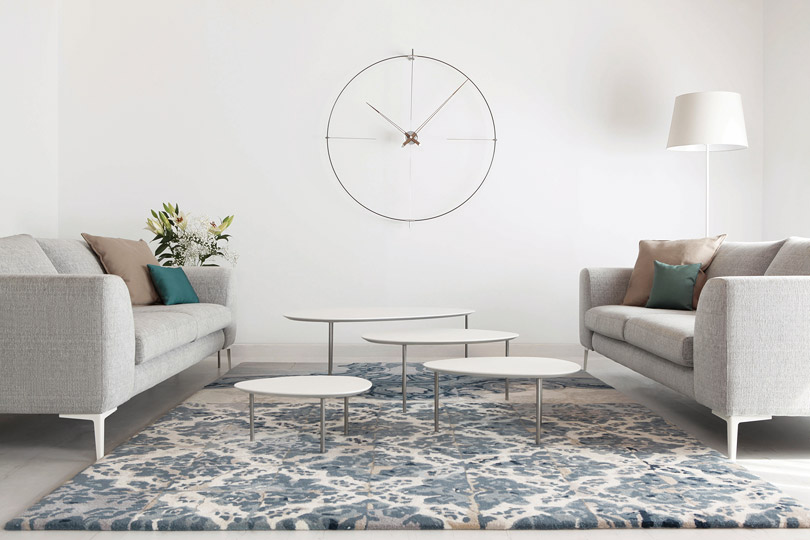 Sister 'New Anda' is similar to the 'Bilbao' but is even more minimalist in design, and measures 70 cm in diameter. This model is also available in a beautiful gold finish.
Model 'Barcelona' , named after the home of Nomon, is virtually identical to Bilbao, but features a double ring . The casing and hands are made from walnut wood, and it measures 90 cm in diameter . Mini-Barcelona is a size smaller and measures 66 cm in diameter, with hands made from black lacquered wood.
'Delmori' comes from the same design stable and, thanks to its dimensions of no less than 130cm , can rightfully be called an XXL clock. Any empty, large wall can be transformed into a small design paradise with this clock!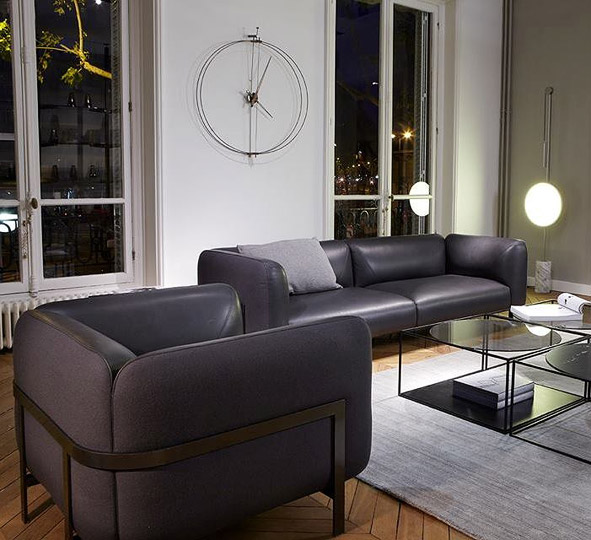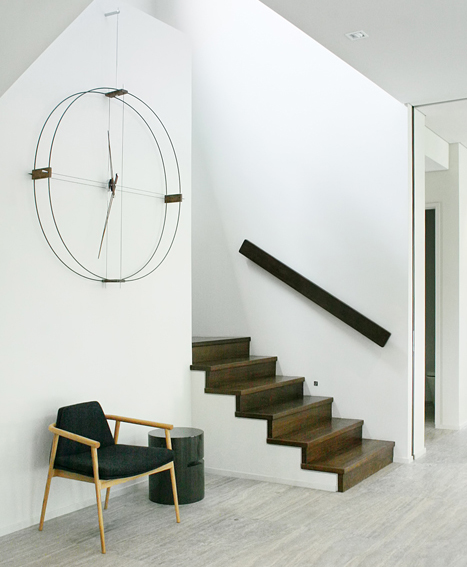 The '2 Puntos' clock features a very special design. Two solid-looking steel rings surround the free hanging clock which has steel hands. This model measures 43 cm in diameter and is therefore also extremely suitable for a slightly smaller wall space. '2 Puntos' can also be supplied in a finish using Calabo hardwood . Here, the rings and hands are crafted from a beautiful dark reddish-brown type of wood. Of course, as in all other cases, we mean real natural wood, carefully selected and obtained through managed logging.
'Doble O' is not dissimilar to '2 Puntos' but is larger (diameter 70cm) and features multiple spacers between the rings, which give the clock a more industrial appearance . The hands have a very special design with a great interaction between the various materials . 'Doble O' is available in various finishes; completely made from bright steel, Calabo hardwood or as a combination of the two with brass accents.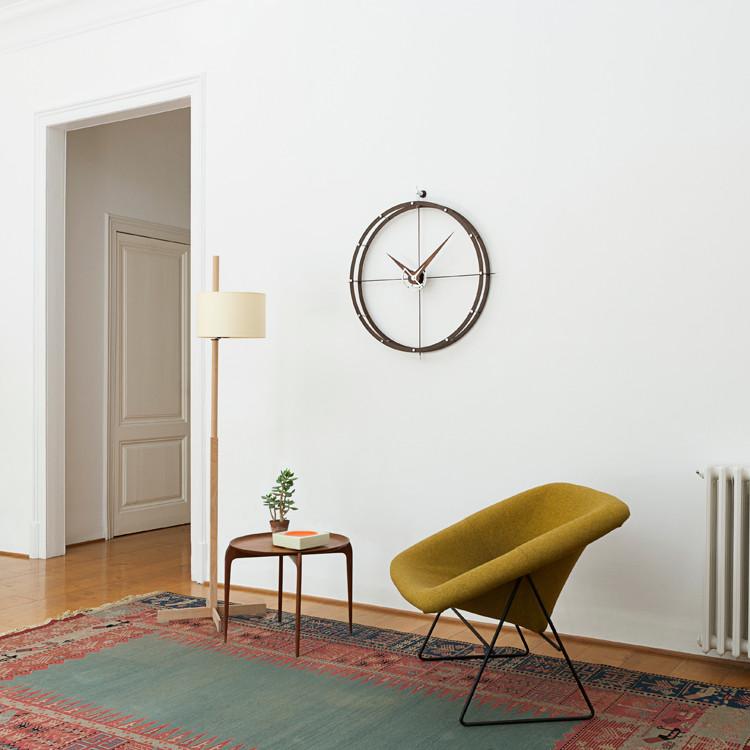 It doesn't take much imagination to see what model 'Look' has been inspired by; the human eye. The components are fabricated from natural walnut wood and the ring is made from fibreglass. The hands have a special design which is reminiscent of a tuning fork.
An outsider in the series, but no less beautiful because of it, is the special design 'Cris' . This model features a large, pointy hour hand and a long thin minute hand. Every hour, the clock performs a movement that means the circle rotates on its axis , a nice detail! The hour hand is finished in walnut wood, the minute hand in white fibreglass and the ring and centre box are made of bright steel. Would you rather have a ' touch of gold' ? Cris can also be supplied with a ring and centre box in a gold finish.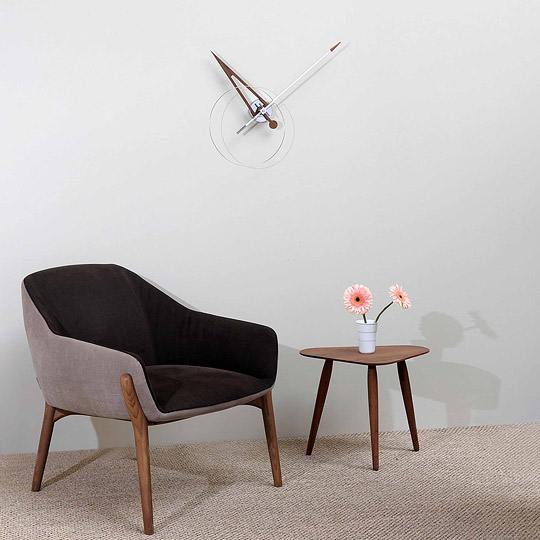 Péndulos
the Péndulos range consists of a number of slim, hanging clocks with a point-shaped counterweight at the bottom. The model 'Punto Y Coma' is named after the punctuation semi-colon, measures 113 cm and can be finished in high-gloss chrome, walnut wood, gold finish or graphite dark grey. Punto Y Coma is made from a slim steel rod on which the clock is fastened. The solid steel counterweight hangs at the bottom. Thanks to the slim design, this clock is perfect for a very small wall.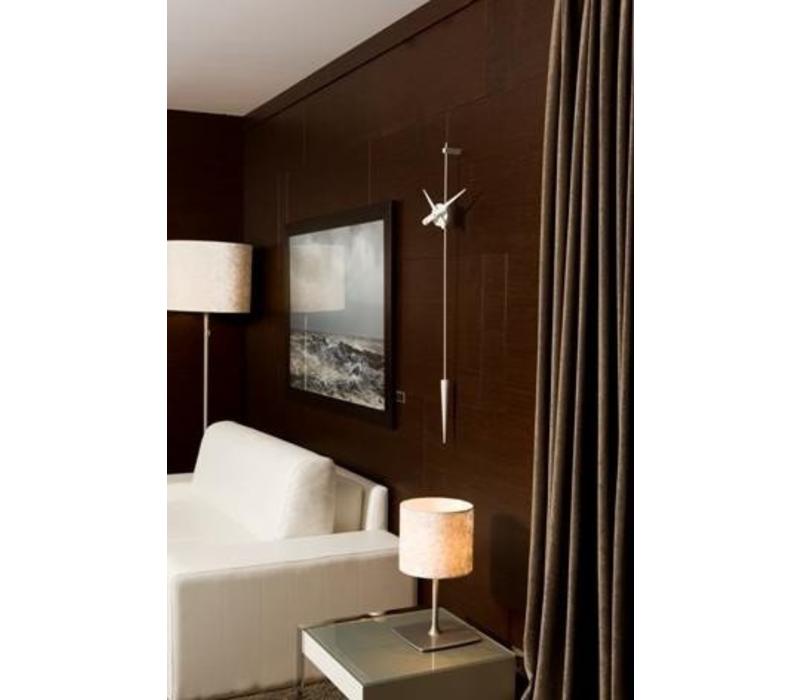 The 'Pendulo' clock has a variable height, thanks to the 2 steel wires a height of no less than 4 metres (!) can be reached. The hands have a diameter of 74 cm and the counterweight measures 42 cm. A real XXL clock therefore, which is shown off to best effect on a high wall . Pendulo can be supplied both with a ceiling mounting as with a wall mounting. Pendulo is also available in various materials; high-gloss chrome, walnut wood, gold finish or graphite dark grey.
The 'Swing' is a design made from a solid block of walnut wood measuring 34 cm in diameter with slim hands in brass (gold finish) or chrome-plated steel. The hands are reminiscent of tuning forks. Thanks to the large surface area of the casing, the characteristic structure of the natural walnut wood is shown off perfectly. Rather the same clock but without the pendulum?
Sobremesa
Clock 'Aire' is a beautiful table clock which features a casing and hands that hang freely 'in a void'. The wafer-thin hands, the casing and the foot are made from ash wood. The ring is made from high-quality fibreglass. Aire has a dimension of 55 cm.
Table clock 'Omega ' has a more robust and industrial appearance , the 'Gold' version has a chic look thanks to the gold-coloured accents. Omega is a little smaller with a height of 40 cm.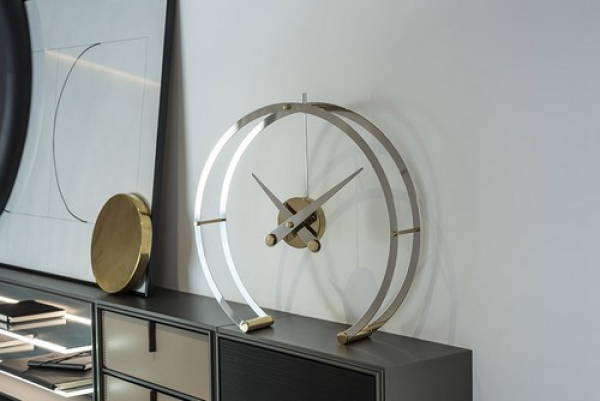 'Puntero' is a table clock with an extremely slim design; two balancing wooden rods have been connected in a minimalistic way with the casing of the clock. You can personalise the Puntero by choosing for natural wood or a coloured version. The height of this special clock is approx. 94 cm. A beautiful work of art , which can for instance be placed on a dresser.
In the same series you can find standing clock 'Pisa' which has a height of no less than 150 cm. Pisa is available in the same material and colour options as Puntero.
Atomo
Nomon's 'Atomo' series consists of a range of pretty desk clocks.
The basic model 'Atomo Sobremesa' is a finely crafted desk clock with a casing and hands made from solid walnut wood and a dial made from brushed brass or even more sleekly executed in graphite . The clock has legs and has a diameter/height of 10 cm. This model is also available as a wall clock (Atomo Pared).
'Mini Puntero' is made up of the same casing as 'Atomo' but is fixed onto a structure of 2 slim wooden stands . The height of this model is 28 cm.
Marble
As well as wooden clocks, Nomon now also features a beautiful model in marble . 'Bari ' is available in busily marbled 'Emparodor' brown marble and in lightly marbled 'Sahara Noir' black marble. Hugo is available in sizes S (D=24cm) and M (D=32cm). The hour hand is made out of matt polished brass, the minute hand from walnut wood. Special to this design is the mushroom shape of the clock, which is clearly visible when looking at it sideways on. This makes it seem as if the clock comes loose from the wall , which gives a great visual effect.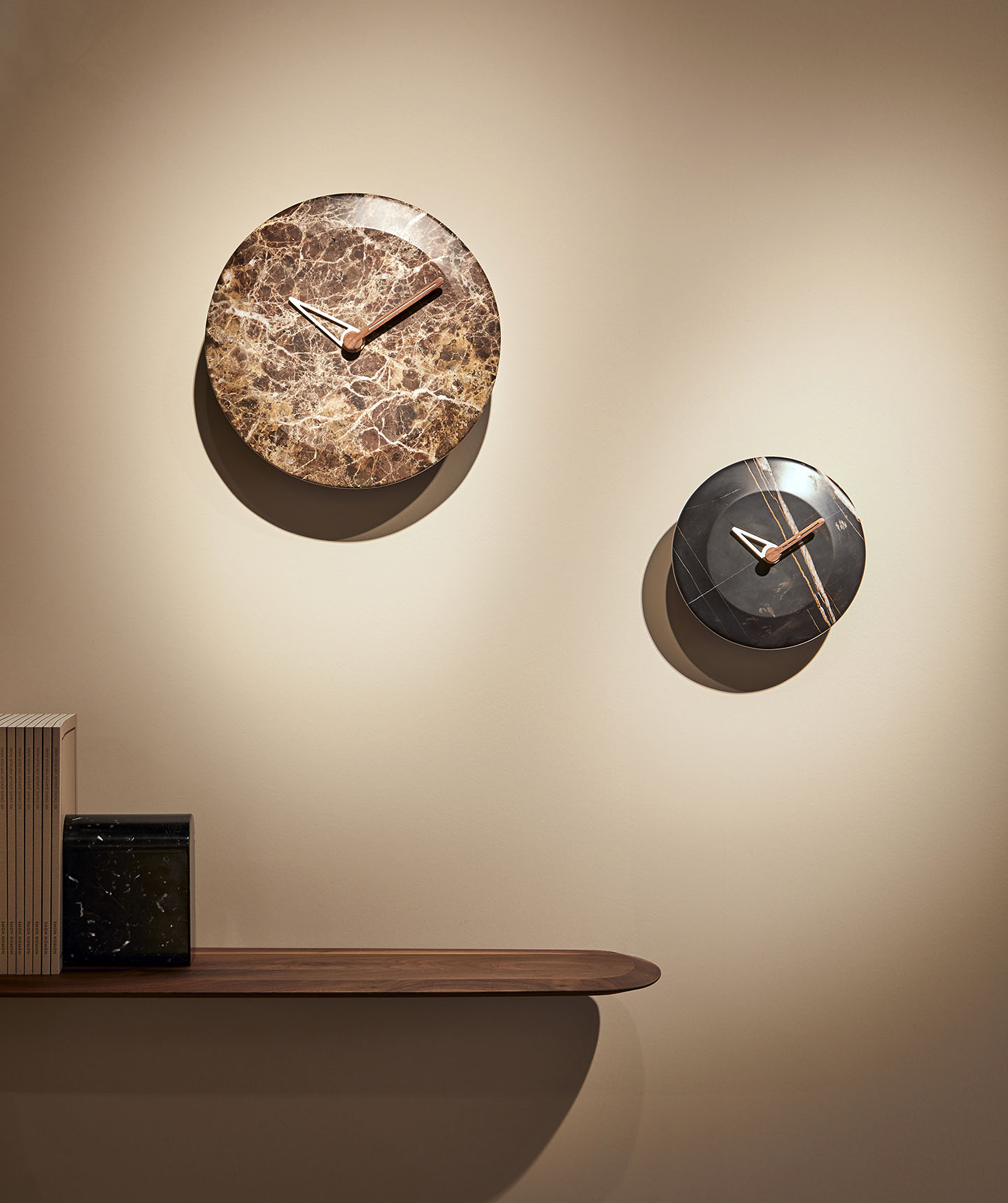 OJ
The OJ series was made to make the minimalistic 'hands-only' clock available to every type of budget. OJ has been made from high-quality polystyrene plastic and finished in a matt look . The clock is available in no less than 15 colours and has an 80 cm diameter including the time indications which are included. The clock runs on a standard AA battery and is executed with a German-made UTS time movement. The OH series is priced attractively at a sale price of € 67.00. If you would like to buy the OJ direct , take a look at this sales page on Bol.com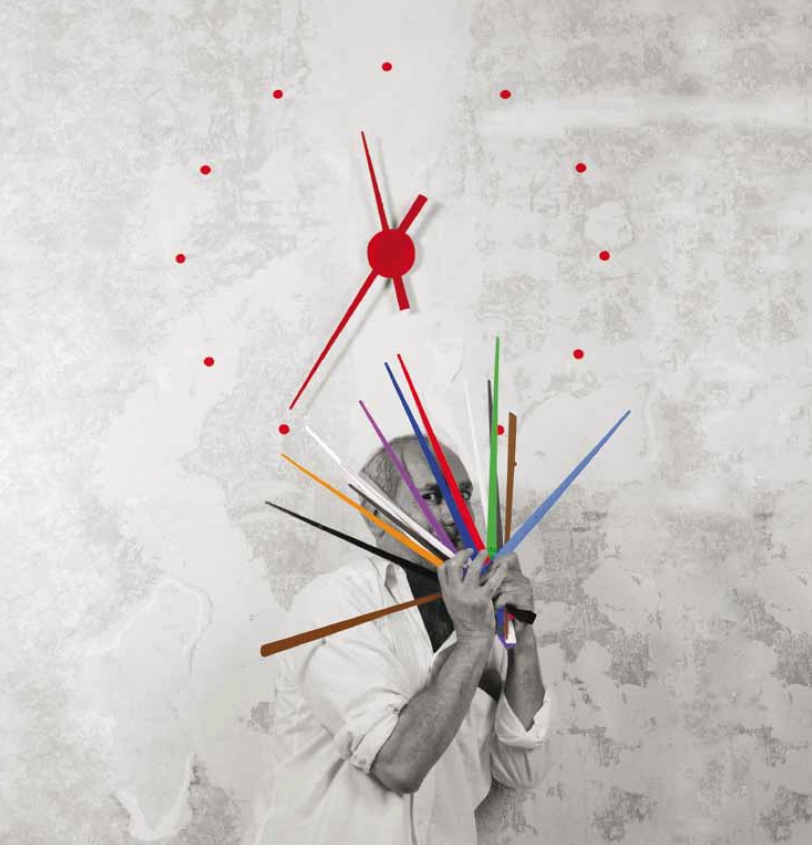 OJ Mini
OJ is also available in a smaller size as 'OJ Mini ' with a diameter of 50 cm. The available specifications and colours are the same as for the larger version.
6. Technique and Packaging
Nomon clocks are crafted from the best materials . For instance, 'marine grade' steel is used, similar to what is used in yacht building. The wood used is always of hardwood quality, derived by means of managed logging. Just as during the production of expensive car interiors, a strict selection process takes place and only the most beautiful wood is used!
The clock movement, sometimes also called the 'UTS', is a relatively simple battery-driven component. However, as the clock has to function for many years, a German manufacturer has been chosen for this component. If the movement should develop any problems after all, this can be easily remedied by replacing the UTS. You receive a 2-year guarantee in respect of the perfect working of the clock, so the replacement will be free of charge.
Nomon pays a lot of attention to the packaging. All the components are placed separately in pre-moulded foam plastic, in order to protect them properly . The whole is placed in a carton slipcase, which our logistics people place inside another box, so you can be sure of receiving your clock in perfect condition! As standard, a battery, a guarantee certificate and a user manual for the assembly of the components are supplied.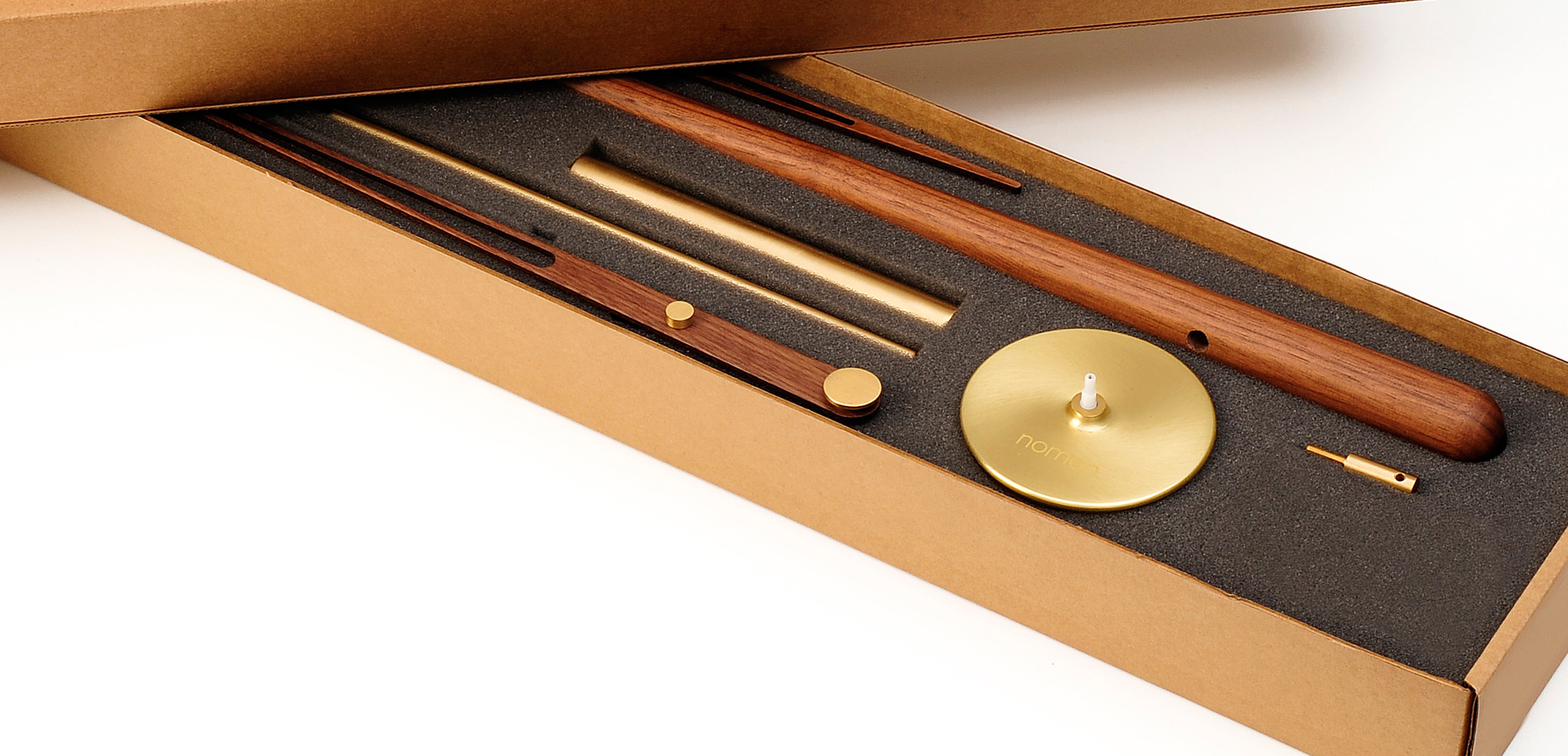 Give a Nomon clock as a gift!
A Nomon clock is an ideal gift for any man or woman with a feeling for style and design . Make use of our gift service ; your parcel will be beautifully wrapped in white glossy paper and finished with a black bow. Nomon clocks are also perfectly suited as a luxurious corporate gift . A beautiful desk clock or designer wall clock commands a huge attention value and makes an indelible impression.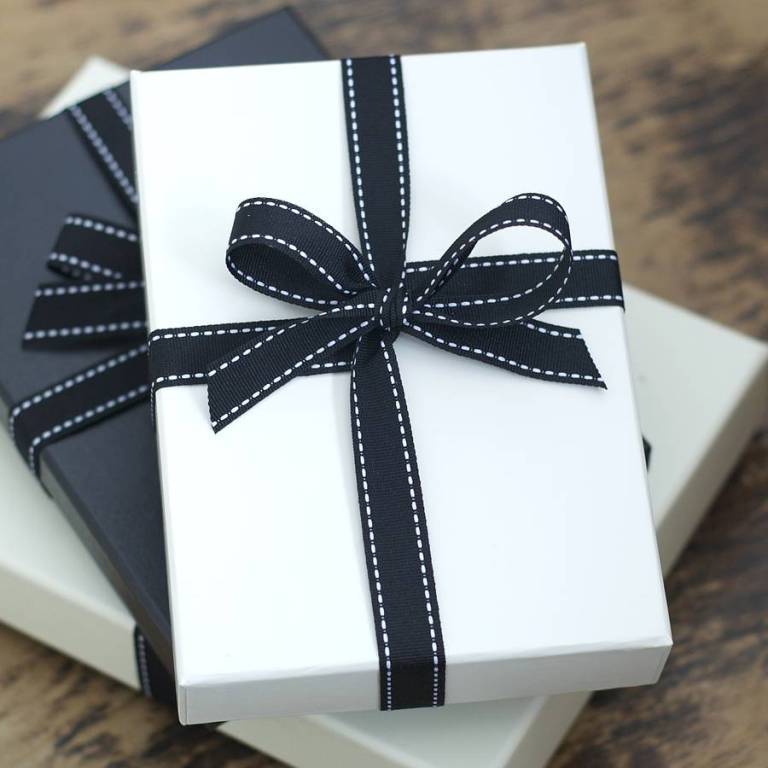 7. Purchase and aftercare of a Nomon clock.
Wilhelmina Designs is the largest supplier of Nomon clocks in the Benelux and maybe even in all of Europe. We have in excess of 30 models in stock , which means most clocks can be sent to you within a few days . Wilhelmina designs is an online shop, which means we don't have a physical shop or showroom. As a matter of fact, there are hardly any shops that have the clocks on display, but you are able to keep the clocks for 14 days , and to return them at no charge in that time if required without providing a reason.
Assembling the clocks is a simple task, which can be carried out by anyone who has at least a little diy-experience. If you should encounter problems during assembly, you can always call on our customer service, which in turn is in constant touch with the Nomon technical services in Spain.
We provide a 2-year full guarantee on the perfect working of your clock. So even if a technical problem were to occur later on, the replacement of any components will be completely free of charge!
Do you have further questions? Then call our customer services on 033-828 0140 or send an email to [email protected]