21 / Sep / 2023
Luxurious faux fur plaids and decorative cushions: Stylish warmth for your home
Nothing adds as much warmth and style to your interior as faux fur plaids and decorative cushions. These soft, cuddly home accessories are not only trendy, but they also offer the comfort and cosiness you are looking for in your home. In this article, we take a deeper dive into why faux fur is a smart choice and how to incorporate these cosy items into your décor.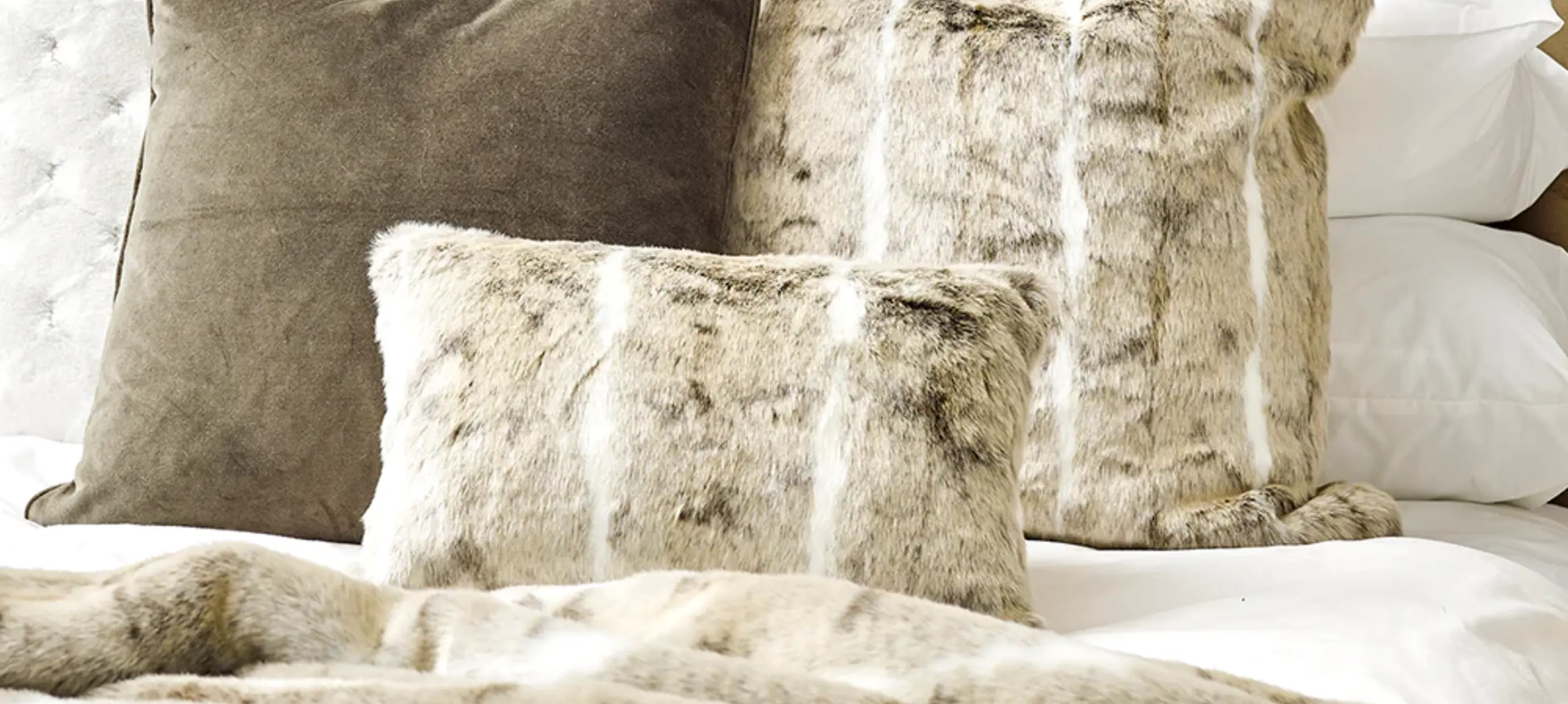 Why faux fur?
Environmentally-friendly and animal-friendly
One of the main reasons to choose faux fur is the ethical aspect. Imitation fur is made without harming animals. This makes it a conscientious choice for anyone concerned about animal welfare. Moreover, it helps reduce the demand for real fur, thereby reducing animal suffering.
Style without Guilt
Faux fur is not only animal-friendly, but it also offers excellent style. Plaids and decorative cushions made of faux fur look as luxurious as their real counterparts, and you can enjoy the glamour without feeling guilty.
Durable and low-maintenance
Faux fur is durable and easy to maintain. It is resistant to stains and spills, making it perfect for households with children and pets. A quick refresh with a lint brush is usually enough to keep it looking like new.
How to use faux fur plaids and decorative cushions
Create a warm atmosphere
Faux fur plaids and decorative cushions are perfect for creating a warm atmosphere in your home. Place a faux fur plaid over your sofa or chair, and add matching decorative cushions to create a cosy seating area. These soft textures invite you to relax and enjoy the warmth of your home. With faux fur, you will instantly bring your interior into the spheres of the new season.
Mix and match
One of the fun aspects of faux fur is that you can mix and match with other fabrics and textures. Combine faux fur with smooth silk, rough linen or shiny velvet for an interesting contrast. This will give your interior a modern look with a touch of glamour.
Bedroom Luxury
Faux fur is not just for the living room. Add a faux fur bedspread or a few decorative cushions to your bedroom for a touch of luxury and warmth. It will give your bed an inviting hotel look in which to unwind. Perfect for those who love the hotel chic look.
Conclusion
Faux fur plaids and decorative cushions are not only trendy but also an ethical choice for your interiors. They offer luxury, comfort and warmth without guilt. Whether you want to freshen up your living room or add a touch of glamour to your bedroom, faux fur is the perfect choice.
So, what are you waiting for? Look for faux fur plaids and decorative cushions to match your style and give your home the warmth and elegance it deserves. And don't forget to enjoy the cuddly softness of these beautiful accessories.
Click here for our complete collection of fur plaids and fur cushions.