Posted on
By Patrick Wessels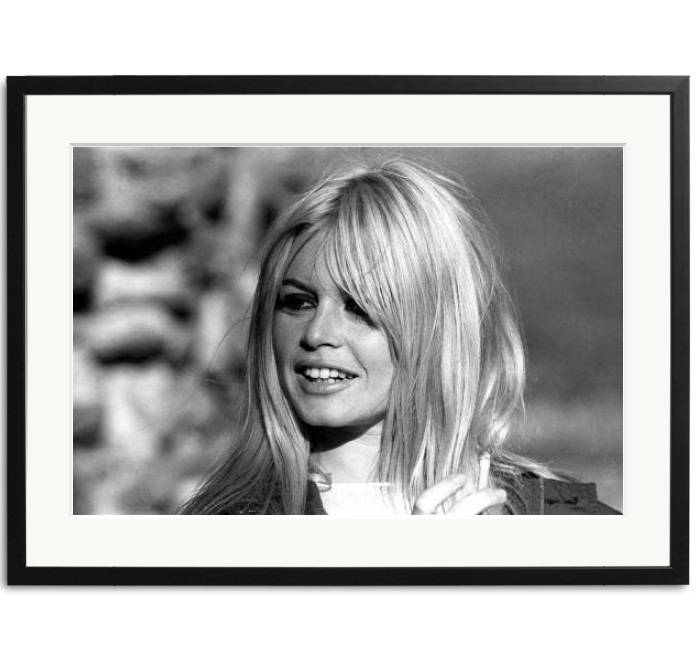 Are you looking for black-and-white pictures of Brigitte Bardot to add to your interior? We are proud to present various beautiful pictures of this French lady known as a model, actress and singer. She went from being a sex kitten to a light-hearted pin-up girl, and was a national and international hit. She was considered the French answer to Marylin Monroe and her black-and-white pictures still make a great addition to your interior.
The black-and-white pictures for your interior show iconic scenes of movies that Brigitte Bardot starred in, but she was also a singer and model. She recorded sixty mildly popular songs, although she did not belong to the best singers out there. She already recorded 'Je t'aime.. Moi non plus' in 1967, but she did not dare to release this suggestive song until 1986. Her career as a modelwas much more successful, as early as 1953 she already posed in bikini at the beach of the Cannes Film Festival. Especially the picture of Bardot dressed in a corset, photographed from behind, has become particularly well known.
Movie career of Brigitte Bardot
Brigitte Bardot played parts in 48 films, leaving her to look back on a meaningful career. It was ; Et dieu... Crea la femme' that led to her international breakthrough in 1956. Furthermore, she played a role in 'Two weeks in September' from 1967, from which a beautiful black-and-white picture is available for purchase. Bardot mostly excelled in her roles in light comedies, such as 'Une Parisienne', but also played a great part in the more dramatic title 'La Verite'.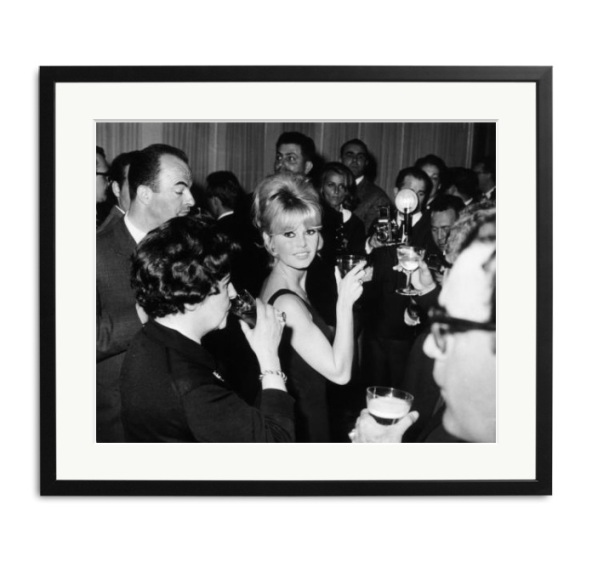 Black-and-white pictures in the interior
The black-and-white pictures of Brigitte Bardot can create a haven in your interior, for example when you choose to use a variety of warm wooden elements. Combine this with shades of grey and make the pictures a wonderful and stylish accessory. These pictures will tie your room together, without negatively influencing the warmth and energy of your furniture, colours and materials.

Besides, the Brigitte Bardot black-and-white pictures for your interior are an excellent choice for your stairway or your hallway. Traditionally, these spaces are hard to find accessories for. With a picture of Brigitte Bardot from the press conference of 'Le Mepris' or a picture of Brigitte Bardot in Venice you will have a beautiful photo on your wall and a special atmosphere in these otherwise mostly functional areas.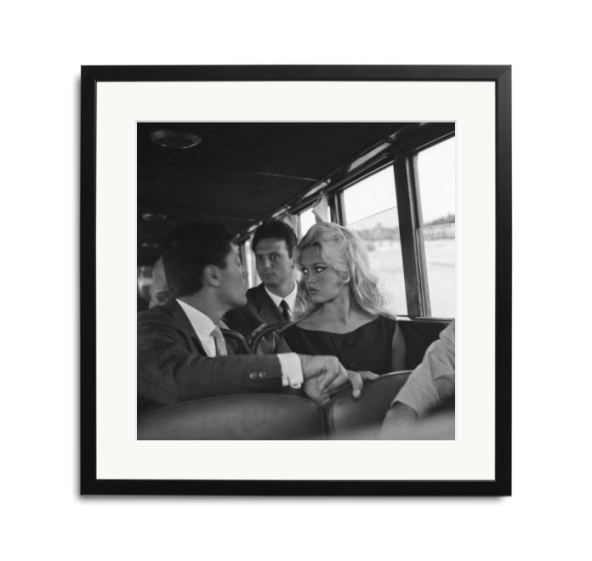 Would you like to add the feel of these black-and-white pictures of Brigitte Bardot to other parts of your interior? Try and use black-and-white cushions in your living room, a subtle way to create a colour flow.The cushions do not draw too much attention, allowing the black and white pictures are able to fully come together with the rest of the interior. Preferably, try to use several different patterns and buy a nice stool to put them on, or place them on a large chair or easy chair.


Buying black-and-white pictures of Brigitte Bardot
The black-and-white pictures of Brigitte Bardot are high quality and printed on Fuji Chrystal Archive paper. The professional structure in high-quality wooden frames makes you not only choose a beautiful composition; the pictures' materials will contribute to the feel of your interior. Naturally, you can choose from various sizes, ranging from small (27,5 x 35 cm) to extra large (55/60 x 75 cm). The size of your Brigitte Bardot black-and-white picture depends on the original size of the negative.