CUSTOMER SERVICE (Mon-Sun)
+31(0)33 828 0140
Are you looking for gift ideas for him, to get inspiration? Browse through picture frames, home accessories and e.g. clocks.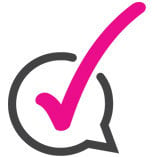 ordering a beautiful present? We are happy to help you get inspiration, by offering a range of specific design items. Are you looking for a beautiful clock, a special garbage bin, or possibly for nice picture frames? The design of our gift ideas for him will make him appreciate your gift greatly. You are guaranteed to make an excellent choice, just like with the online available gift ideas for her.
Picture frames and clocks for him
The gift ideas for him have a manly look and feel to it, while you can make excellent use of them in the interior. What about, for example, a
Nomon design clock
or a
classic black-and-white picture of Roger Moore
? These are the gifts that will make you score points with him, but will also give you pleasure in your interior. Are you looking for a manly present? You have come to the right place; we will make for a swift delivery to your home.
Do you have any questions considering our range of gift ideas for him? Please call our customer service (071) 36 485 61 or send an e-mail to: robin@wilhelminadesigns.com