CUSTOMER SERVICE (Mon-Sun)
+31(0)33 828 0140
Order side tables as an addition to your interior
Would you like to vary with your interior? Order one of the stylish side table for example made of high-quality wood or glass.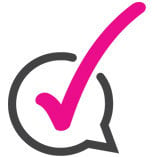 A side table has a functional purpose but can also be a valuable addition to the rest of your interior. A side table enables you to make your 'house' into a 'home' or to endlessly vary with decorating your place. Are you looking for a new side table with a modern design or the complete opposite, such as a classic wooden table? Feel free to use one of our HMD side tables with drawers or check out a side table made of glass from a brand such as Braid. We only work with the best brands out there and only offer side tables and coffee tables made of high-grade materials.
Purchase side tables of wood or glass
Are you thinking about purchasing a side table and looking for a wood or glass piece? Many of the side tables are available in a variety of colours making it easy for you to determine which one is perfect as a complement to your interior. All wooden side tables are of high-end quality and for example available in different types of wood, as oak (light) walnut (medium) and wenge wood (dark). Have you got any queries about one of the side tables or one of our other products? Feel free to contact us for more information.
If you have any questions about our products, please call us on +31(0)71 36 485 61, of send us an email to robin@wilhelminadesigns.com