Interior advice | Projects
Styling, Interior Advice and Projects

Online design consultation | styling
To complete a room, we often use accessories such as cushions, vases and decorative objects. Send us an e-mail telling us which products on our site you like, together with a few photos of your interior. Within a few working days, our stylists will send you a nice proposal with mood impressions of products that perfectly match your interior. An online design consultation is free of charge.
Interior design | unburdening
Perhaps you often browse through interior design magazines and search the internet for photos of your own interior. You come up with great ideas, but how do you give them form? Composing a balanced interior that reflects your personality is quite a task. It requires expertise and is a time-consuming process. Our in-house interior designer Yvonne van der Veen can help you.
By listening carefully to your wishes and ideas, she creates a balanced interior design that seamlessly matches your personal taste. We create a warm and comfortable interior with the 'wow' factor without losing sight of functionality.
Customization
Our services are flexible and we always offer tailor-made solutions . Do you just want to give the living room or bedroom a new look, or are you having the entire house renovated? You can also select how you want the plans to be developed. Submit your interior design question via [email protected] and we will contact you immediately.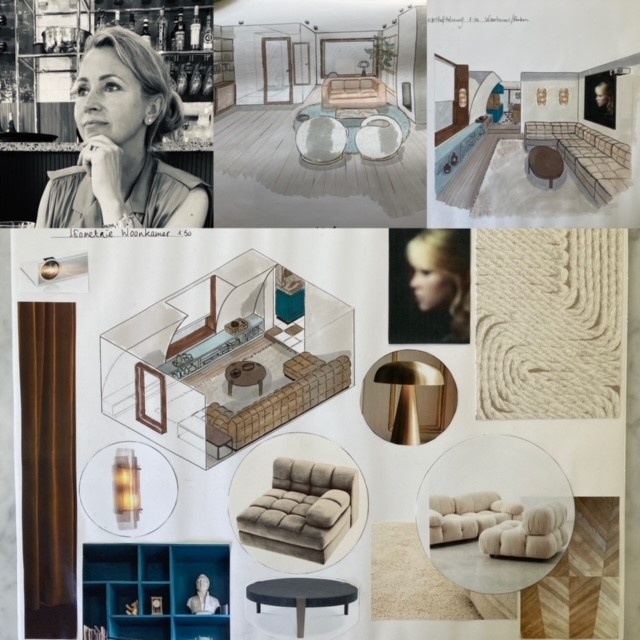 Method
Because every project is unique, we like to make an appointment to get acquainted, either on location or via video call. After all, there has to be a 'click'. We look at the current situation and take stock of the wishes, needs and ideas. In consultation, we draw up a budget for the project. Once our proposal has been worked out and accepted, we start working for you to give shape to your dream interior. Our work consists of:
2 to 3 different layout proposals
Handmade perspective drawings and maps in color
Concept material and color plan
Selection of furniture, lighting and accessories (showroom visit optional)
Lighting plan (optional)
Elaboration in 2D or 3D computer renderings (optional)
Our working area includes the Netherlands, Belgium and Germany as standard. Depending on the size of the project, we also work further across the border, please inquire about the possibilities.