CUSTOMER SERVICE (Mon-Sun)
+31(0)33 828 0140
Order vases with a modern or classic design
Are you looking for a new vase with a modern or the opposite, a classic look? Order vases of high-grade materials online.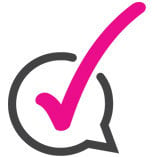 Are you looking for vases made of excellent materials with a classic or on the contrary, a modern design? We are proud to present our online range with brands such as Wonderable, Delfts Blauw and Braid, manufacturers who will not compromise when it comes to look and quality. You choose a true piece of design that you can use as a stylish addition to your interior. Do not hesitate to take a look at our glass jars and lanterns, as they can be brilliantly combined with the vases.
Buy vases made of excellent materials
Are you looking for inspiration in search of a new vase, or are you looking for one of the vases of the most high-grade quality? From small vases to large vases and rectangular or round shapes, you have come to the right place. We carefully select the most unique designs that can be used to create a special feel within the rest of your interior. Use the various
home accessories
to style your house exactly the way you like. Have you got any queries about the vases or the shipping process? Feel free to contact us for more information; we are happy help.
If you have any questions about our products, please call us on +31(0)71 36 485 61, of send us an email to robin@wilhelminadesigns.com