CUSTOMER SERVICE (Mon-Sun)
+31(0)33 828 0140
Order round and oval mirrors with or without a frame
Would you like to order a round or oval mirror? Browse online through our design mirrors with and without a frame, both modern as classic.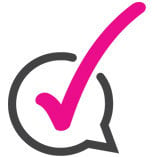 Would you like to use a mirror without a frame and therefor choosing to buy a special piece of design for your interior? You can use the mirror to create a more spacious effect, for a classic or very modern look or simply to make your house more into a 'home'. You can use the mirrors without a frame to add design to your interior and use the reflection to enable you to look outside. Get inspired easily by our mirrors without a frame and mirrors in a frame by browsing trough our online selection.
Round and rectangular mirrors without a frame
Are you looking to use one of our round mirrors without a frame or are you looking for the opposite, a rectangular piece? If possible, make sure that it fits the rest of your interior or on the other hand creates a nice contrast. DeKnudt is a Belgian manufacturer that thinks of mirrors as a true piece of design. Do you have any queries about these mirrors without a frame, or one of the other items? We are happy to hear from you, please feel free to contact our customer service.
If you have any questions about our products, please call us on +31(0)71 36 485 61, of send us an email to robin@wilhelminadesigns.com