CUSTOMER SERVICE (Mon-Sun)
+31(0)33 828 0140
Purchase framed mirrors in a stylish design
Are you looking for a design mirror in a frame? Browse trough our modern and classic mirrors that are easy to order online.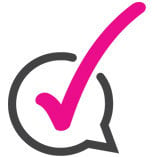 Are you looking for a framed mirror that you can hang on your wall and has both a stylish and functional application? We can use mirrors to check our appearance but they can also be used to create a spacious effect in your room. For example, use the reflection of the framed mirrors to enable you to look outside and 'bring' your garden or view into your home. Browse trough our mirrors without a framefor a more modern look.
Classic and modern framed mirrors
Do you have a specific type of modern or classic framed mirror in mind or would you like to use our online range to get inspired? For example, browse trough the mirrors of DeKnudt, the Belgian manufacturer that does not compromise when it comes to design. Do you have any queries about the framed mirrors or one of the other items? Feel free to contact our customer service, they are happy to help.
If you have any questions about our products, please call us on +31(0)71 36 485 61, of send us an email to robin@wilhelminadesigns.com