CUSTOMER SERVICE (Mon-Sun)
+31(0)33 828 0140
Design mirrors available to order in various shapes
Looking for a design mirror? Browse trough our framed mirrors and frameless mirrors, within the round and rectangular section.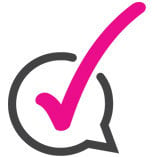 Would you like to use a design mirror in your interior? A mirror is an important stylish addition and enables you to create a spacious effect. For example, you may use one of the round and oval mirrors or choose a rectangular mirror. Do you prefer a certain shape or are you looking for more inspiration with our complete range of design mirrors? The choice is up to you. Our customer service team is ready to answer any queries you might have about one of our products.
Buy framed or non-framed design mirrors
Within our range of design mirrors you may find products from brands such as DeKnudt, a Belgian manufacturer that approaches mirrors as an object of art, enabling you to count on an extremely stylish design. Naturally, you are able to choose between
framed mirrors
and frameless mirrors, depending on the look you prefer. The design mirrors can be matched with the rest of your interior and therefore may create a perfect balance.
If you have any questions about our products, please call us on +31(0)71 36 485 61, of send us an email to robin@wilhelminadesigns.com