CUSTOMER SERVICE (Mon-Sun)
+31(0)33 828 0140
Deknudt
Classical Mirror 'Sculpture' 80 x 100 cm in silver
'Sculpture' is a classic mirror in 'baroque' style by Deknudt, with dimensions of 80 x 100 cm. Fits perfectly in a classic or modern interior!
As classic as classic gets, 'Sculpture' by Dekundt is a classic frame (80 x 100 cm), consisting of a faceted mirror with a richly decorated 'baroque' style frame, available in gold and silver finishes. 
a classic mirror, with timeless design...
A classic mirror like 'Sculpture' fits in perfectly in a classic, or chic style decor! But dare to place Sculpture in a sleek and modern interior too!  The resulting strong contrast, between a classic mirror in sleek modern lines, gives a mirror like this full attention! A combination like that creates a bold, unique design in your home.
Large mirrors are carefully packed in a wooden crate suited for international shipping, to make sure your purchase arrives undamaged.
production
The base material of this frame is polyurethane, a special plastic of very high quality. After the molding process, the mirror is hand-decorated in gold or silver metal. Finally, the whole piece is treated with a special artisans oil for protection. 'Sculpture' is easy to hang on the wall.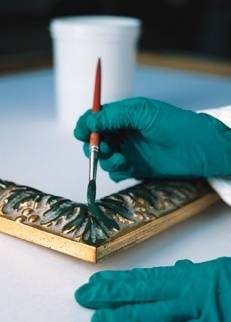 | | |
| --- | --- |
| size: | 80 x 100 cm | 32 x 40 inch |
| weight: | 7,5 Kg |
| frame color: | silver |
| designer: | Deknudt |
| warranty: | 1 year warranty |
| materials: | polyurethane, glass |
Wilhelmina Designs
Office & Warehouse

Wilhelmina Designs
Kabelbaan 1
2352 BL Leiderdorp
The Netherlands
+31(0)33 828 0140
service@wilhelminadesigns.com

My account
Payment methods
You can pay us in the following ways:










Customer service